Are you knocking on doors trying to find prospective clients?
Wasting lots of time calling and meeting with prospects?
You get lucky and close one deal. Work on this one deal. Deal is completed.
Start the whole process again not knowing when your next payment is coming in.
Does this sound familiar?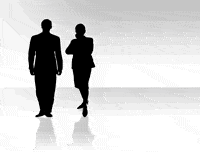 Most consulting and service businesses I've encountered work like this. It's feast or famine all the time.
You don't have time to sell and promote yourself while working on current client projects. Once you're done a project, you try to find your next client (and paycheck).
You're both the product AND the salesperson.
That's the curse of being a consultant and offering services.
Here's the first step in getting out of this vicious cycle…
Most consulting/services websites are expensive business cards. That means you have lots of room to blow your competition out of the water because Virtual-Tree takes an approach that your website is not just an online business card or brochure.
It's a sales and marketing machine.
Virtual-Tree's Consultant/Professional Services Web Business Package is specifically built to help you as an Consultant/Professional get more clients and business.
Here's what you can do with this package:
Showcase your authority and credibility in your area of expertise
Easily create blog posts with no technical knowledge whatsoever.
Have prospects and clients COME TO YOU
We build all our sites with the WordPress blog platform, which powers over 18.9% (over 70 million!) of the Internet's websites. This allows you to focus on creating content without needing a techie to help you. It also makes your site easier to maintain since it's such a widely used and accepted platform – you be sure it won't be out of date anytime soon.
Promote information products you've created
Promote your consulting and services
SEO (Search Engine Optimized)-friendly website – makes it easier for your website to get indexed by Google (and other search engines)
Mobile-friendly website – most other web firms don't mention the significance of this. Rest assured your site will be mobile-friendly so it is "future-proof" and you don't miss out on valuable and increasing visits from mobile devices
Lean and clean code – why is this important? when the code of your website is lean and clean, it doesn't slow it down and loading a website fast is extremely important to your visitors and being seen on Google. A slow website means lost money.
"Working with VT in the initial stage, the development, the marketing and the launch of our website was easy, fulfilling and aligned to our main objectives.

We were happy to know from our clients that it was easy for them to find us online when looking for Consultants.

Now we are in process to develop a second website and we confirmed already with VT about their involvement in this second project." – Massimo G.
Is this for me?
This package is for you if your work is mostly through consulting and offering professional services such as (but not limited to):
Consultant
Accounting services
Legal services
Freelancer
Also, this is for you if you find yourself in this situation:
You just don't have time to do this yourself – you realise your time is worth more than struggling with technical stuff
You believe in building a business rather than focusing on just aesthetics
You want to work with a partner who wants to help you succeed
If you find yourself nodding your head to the above, then we might just be a good fit to work together
Why Virtual-Tree?
Our goal for your site is to give you a useful tool to systemise the promotion of your services and products – saving you time from a lot of manual work.
Also, we'll give you our best advice from over 16+ years of sales, marketing, business and website building experience. (Value = Priceless)
Here's what else you receive:
Choose from 10 different design themes
Choose your preferred colour theme
Choose your preferred content layout
Bonus #1: Do you know what the #1 secret to ALL successful websites is?
It's building your own email list of subscribers who hunger to read and learn more about what you're doing and writing about.
For this reason, we include setting up an email newsletter signup form using our easy-to-use marketing system so you can start building your own list of subscribers.
Don't get me wrong though – we don't just slap on a web signup form. The difference with VT is you get our experience of knowing where to place your signup forms and how to get people to sign-up. 9 out of 10 web firms will get this wrong because they're not focused on the right goals for your website. (Value of $100)
Bonus #2: 30-day Free Trial to Our Email Marketing Software (value of $12)
You also get a trial of our easy-to-use, non-techie friendly email marketing software service.
Easily create beautiful email newsletters to keep in touch with your clients and prospects.
Includes autoresponders so you can setup hands-free automated marketing!
Bonus #3: The Consultant/Services Sales Funnel Map/Blueprint
This is a (sales funnels usually cost upwards of US$5K-US$10K to build) but we'll include the map (for you to build out yourself) for FREE. (Value of $100)
This map is created by our Principal Consultant who is a Certified Funnel Expert by DigitalMarketer.com
Bonus #4: Social Media link setup – (Value of $75)
We'll add links to your Facebook page, Twitter, etc social media presence so your followers can find you on social media sites they frequent.
Bonus #5: Google Analytics Installation – (Value $50)
This is another MUST-HAVE for any online business. Most web firms won't even mention this to you as it means more work for them, but we include the installation of Google Analytics (you'll need to sign up for a free account yourself) as we believe this is absolute must-have.
After all, if you don't know how your site is performing, then you can't make it better.
Bonus #6: VT's Must-Have WordPress Plugins Installation – (Value of $200)
What are plugins? The out-of-the-box WordPress installation is fine, but there are additional functions that are needed for a good performing site which are done by installing "plugins".
Most web designers will just do the basic WP install for you but leave you to figure out which plugins to add (if you need them). We have a list of "must-have" plugins we install on ALL our WP sites.
We feel as a client you should have these too, so we include the selection and installation of our must-have plugins so you don't have to figure it out yourself.
So, you get all of the above bonuses PLUS the web business package where it would normally cost you the time it takes to struggle with setting up your own WordPress site and paying for a license for a theme – Value of $499.95
Total Value You Receive from this Package = $933.95
But you won't have to pay nearly that much…
The Consulting/Professional Services Web Business Package is just USD 750.
Yes, the Consulting/Professional Services Web Business Package is for me (USD750) – Let's get started! The next step is to make a USD 50 deposit first (you won't have to pay the full USD750 amount yet)
[button_3 text="get-started-today.png" align="center" href="https://www.virtual-tree.com/consulting-professional-services-web-business-deposit-payment/"/]
Or Contact us to get started: sales@virtual-tree.com
No thanks, this is out of my budget – I'd rather do it myself
Our No B.S. Guarantee
We guarantee you'll receive a 100% working website and a transparent process when you work with us.
If at any point you're not satisfied with working with us, let us know and we'll make things right.
FAQ
Q: How does this work?
A: Get started above, you'll be taken to a secure payment page to pay a USD50 deposit first. One of our specialists will contact you within two business days to get further information if necessary.
If we find we're not a good fit, we'll refund your deposit.
If we're a good fit and we have all the information we need to begin your project, you'll pay the first 50% of the balance to begin work. Once the project is complete and you are satisfied with the final product, you'll pay the remaining balance before we deliver the website and any other bonuses to you.
Q: Do I get a custom designed website?
A: Yes and No. We can keep this package at a low investment as we use a templated theme for your site.
We'll change the logo and the colour scheme to your liking though.
If you wish to have additional modifications to your package, we'll send you a quote for the additional work in addition to the regular package fee.
Q: Do you supply the photos and images?
A: Yes, at an additional fee. We need to charge additionally as most quality photos/stock images will require purchasing a license fee. Also, the time involved to research the right photo/image for you.
Ideally, we ask clients to provide your own images you would like to include/incorporate into your site BEFORE works starts to avoid any delays and additional costs.
Q: Do I have to host your website with you?
A: No, if you have a preferred web hosting provider, just give us the details so we can setup your website with your preferred web host.
Yes, the Consulting/Professional Services Web Business Package is for me (USD750) – Let's get started! The next step is to make a USD 50 deposit first (you won't have to pay the full USD750 amount yet)
[button_3 text="get-started-today.png" align="center" href="https://www.virtual-tree.com/consulting-professional-services-web-business-deposit-payment/"/]
Or Contact us to get started: sales@virtual-tree.com
No thanks, this is out of my budget – I'd rather do it myself