Tools We Love, Sharing the Resources We Love to Use
Below, you'll find our favourite tools, apps and resources for building great businesses. Check back regularly as we constantly update this list (add new tools, remove existing tools, etc). Assume most of our links are also affiliate links (so we may earn a commission if you sign up or purchase through our links with the associated vendor).
While this does not affect our recommendations, you are not obligated to purchase through our links or from these vendors at all. We spend a lot of time researching and testing out the resources we share here as well.
We recommend you always do your own due diligence and research when it comes to purchasing from a vendor.
Our Favourite WordPress Web Hosts
Cloudways is great for developers, web designers or businesses who are comfortable or has someone who's comfortable with some technical stuff to do with servers.
We use Cloudways ourselves and love the Cloudways + Digital Ocean combo and the Cloudways + Vultr combo.
While Cloudways is a great host, but it's not as "user-friendly" for non-techies or newbies.
a2 hosting is our recommended hosting for those non-techies, or just starting out and just need a quick and easy way to get your WordPress site up and launched without much technical hassle.
Our Favourite Marketing & Email Automation Tools
Email & Marketing Automation
Active Campaign is the Marketing Automation tool we use the most.
Not sure if Active Campaign is for you? Checkout our comprehensive comparison to see which marketing app is right for you.
Email & Marketing Automation
If we're not using Active Campaign, ConvertKit is our next preferred email marketing automation tool. A great and intuitive interface and perfect for Coaches, Consultants, Authors and Experts.
Start with 1,000 contacts for free.
Our Favourite Content Delivery Network (CDN)
CDN
BunnyCDN
BunnyCDN offers the best VALUE for a CDN AND cloud storage. Literally just a few cents per month.
Our Favourite Domain Registrar
Domain Registrar
We've been using Namecheap for registering our domains for close to a decade, it's our ONLY preferred domain registrar.
Our Favourite DNS Host
Premium DNS Host
If you want to improve your site speed, then you also need a fast DNS host (most free ones don't cut it). Enter DNS Made Easy.
Our Favourite WordPress Image Compression Plugin
WordPress Image Compression
Speed up your WordPress site by using ShortPixel's image compression tool, it just works!
Our Favourite WordPress Membership Access Plugin
WordPress Membership & CRM Automation plugin
Connect your WordPress site with your favourite CRM/Marketing Automation tool and turn it into a membership site too! We absolutely love WPFusion and use it on practically EVERY WordPress site – WPFusion eliminates the need for many other plugins and it just works so well.
Our Favourite WordPress Page Builder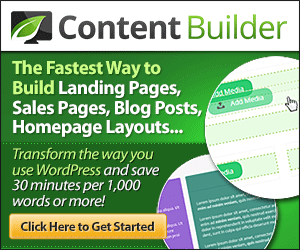 WordPress Page Builder & Marketing Tools
Thrive Architect & Thrive Themes Membership
The Thrive Themes membership offers massive value: you get access to all their themes, plugins (including the Thrive Architect page builder), and exclusive training videos in their Thrive University.
Our Favourite WordPress Cart & Funnel Builder
WordPress Cart & Funnel plugin
I've waited for something like Cartflows for a long time. If you sell ANYTHING through your WordPress site, then you NEED Cartflows.
Allows you to easily setup order bumps, one-click upsells, cross-sells.
This is what all successful websites do, if you're not doing this you're leaving money on the table. Get Cartflows now!
Our Favourite WordPress Learning Management System (LMS)
WordPress LMS
Learndash
Learndash is our go-to Learning Management System (LMS) for WordPress (and I've been in the training course industry for over two decades). It's the best-in-class LMS for WordPress.
Our Favourite Social Media Marketing Tools
Social Media Marketing Tools
When it comes to social media & content marketing campaigns, you won't be able to keep up without help from tools like ContentStudio.
ContentStudio is one of our secret weapons when it comes to automating and saving us time with our social and content marketing campaigns.
It's an absolute must-have.
Missinglettr[tcb-script type="text/javascript"]var mslab01;(function(d, t) {var protocol = ('https:' == document.location.protocol ? 'https://' : 'http://');var s = d.createElement(t), options = {'ac':'7RbJP3BD', 's':0};s.src = protocol + 's3.amazonaws.com/missinglettr-static/affiliate/js/missinglettr.affiliate.banner.min.js';s.onload = s.onreadystatechange = function() {var rs = this.readyState; if (rs) if (rs != 'complete') if (rs != 'loaded') return;try { mslab01 = new MSLAffiliateBanner();mslab01.initialize(options); } catch (e) {}};var scr = d.getElementsByTagName(t)[0], par = scr.parentNode; par.insertBefore(s, scr);})(document, 'script');[/tcb-script]Social Media Marketing Tools
Missinglettr is an AWESOME content marketing automation tool, in addition to Content Studio we love using Missinglettr in conjunction with Content Studio.
Saves you time and drives traffic back to your website, well worth the investment with your social media campaigns.
Our Favourite Virtual Private Networks (VPNs)
VPN
Online security is pretty critical to a business or whether you're accessing the Internet outside your office or home.
Having a secure and trustworthy VPN service is an important solution for your online security.
That's why NordVPN is the top choice for VPNs.
VPN
NordVPN not for you? ExpressVPN is a great alternative (either one is good actually, just depends on your preferences).
Our Favourite Transcription Apps
Transcription
I'm a huge fan of Otter.ai, if you want affordable transcription – Otter.ai is my go-to transcription app.